our beer archive
Some beers are here for a fun time, not a long time.
El Dorado Single Hop XPA 5%
THE RANGE BEYOND
This Limited Edition, single-hop XPA celebrates an all-around favourite hop El Dorado. Well known for its versatility, producing a balanced bitterness and a tropical fruit salad of punchy aromas. This extra hoppy & highly drinkable Pale Ale is sure to satisfy even the biggest of hopheads
May 23
DUSK RUM BARREL AGED STOUT 8.3%
THE RANGE BEYOND
A collaboration born from a mutual love of balanced complexity shared by our mates & local rum masters @huskdistillery As a super limited small batch brew, this amazingly balanced & complex stout was many months in the making spending time in pure cane rum barrels.
Jul 23
SEA MIST FOGGY PALE ALE 4.3%
THE RANGE BEYOND
A bold & punchy hop-driven Pale that's dangerously sessionable. Flowing smooth & creamy, while delivering big aromas of passionfruit, citrus & robust tropical vibes. With a lower ABV, its perfect for those hoppy beer lovers chasing full flavour minus the big standard drinks.
APR - JUN 23
AURORA West Coast IPA 7%
THE RANGE BEYOND
A classic IPA taken from the US West Coast and raised under the southern lights of the South Pacific. Eclipse, Vic Secret and Galaxy hops bring a balance of pine and resinous flavours with bright citrus and stone fruit aromas, rounded off perfectly with deep golden hues, a well balanced bitterness, smooth body and creamy head.
MAR - Jun 23
SUNSHOWER BERRY SOUR 4.3%
THE RANGE BEYOND
Organic Pilsner and Wheat malts for a soft and smooth malt body. Blueberries, Blackberrys and Raspberries for a balance of tangy and sweet fruit character, with big aroma and unique purple hue. You're bound to hit a Sunshower or two on a summer road trip!
Dec 22 - Feb 23
NEBULA HAXY IPA 6.4%
THE RANGE BEYOND
This very limited release Hazy IPA gives rise to an all new hop combo and yeast strain for us! Packed with loads of soft wheat and oats for a sweet, smooth body and deep golden hue. This fresh new IPA is ripe with aromas of Stone Fruit, Deep Tangerine and Tangy Citrus delivering flavour and character in galactic proportions!
Dec 22 - Feb 23
Arctic Circle Cold Fermented IPA 6%
THE RANGE BEYOND
This unique style of IPA is packed full of our favourite juicy hop varieties delivering bright citrus and deep tropical fruit vibes. We cold fermented this beer with our typical expressive yeast strain and conditioned it extra long for a super clean and icy crisp IPA."
June 22
Sunkissed Orange Sour 5.8%
LIMITED EDITION SMALL BATCH BREW
What happens when a full fruited sour falls in love with a hazy pale ale? We didn't know either so we decided to find out! Fresh in kegs we have our delicious new Sun Kissed Orange Sour sitting at punchy 5.8%. Fermented with New England yeast and locally sourced, fresh Orange and Mango for extra fruity flavours and a soft, juicy finish.
eclipse ipa 8.1%
LIMITED EDITION SMALL BATCH BREW
Celebrating and showcasing the new Aussie hop variety 'Eclipse' from the iconic southern state of Tasmania. This is a classic IPA has a full malt body, with bold, punchy aromas of mandarin and citrus zest perfectly tied off with a classic piney and resinous hop character.
Dangerously Drinkable!
Sunset Berry Sour 4.2%
LIMITED EDITION SMALL BATCH BREW
A silky smooth & well-balanced sour, brewed with tasty Pilsner malt & plenty of fluffy Wheat. A hefty dose of fresh mixed berries brings a bright tangy character that'll guarantee you going back for another. This eye-catching sour pours with a velvety head & that special sunset pink hue perfectly suited for summer days like these.
Pandanus Passionfruit & Pineapple Sour 5.5%
LIMITED EDITION SMALL BATCH BREW
Super sweet, yet lip-puckering tart; this drop is loaded with cold-pressed fresh local Pineapple and Passionfruit to tantalise your taste buds. A very refreshing sour that has received great reviews from all who have met her acquaintance.
KEEN FOR BEERS YET?
Come in and visit us this weekend or place and order only for some freshly filled cans to be shipped out for you to enjoy at home.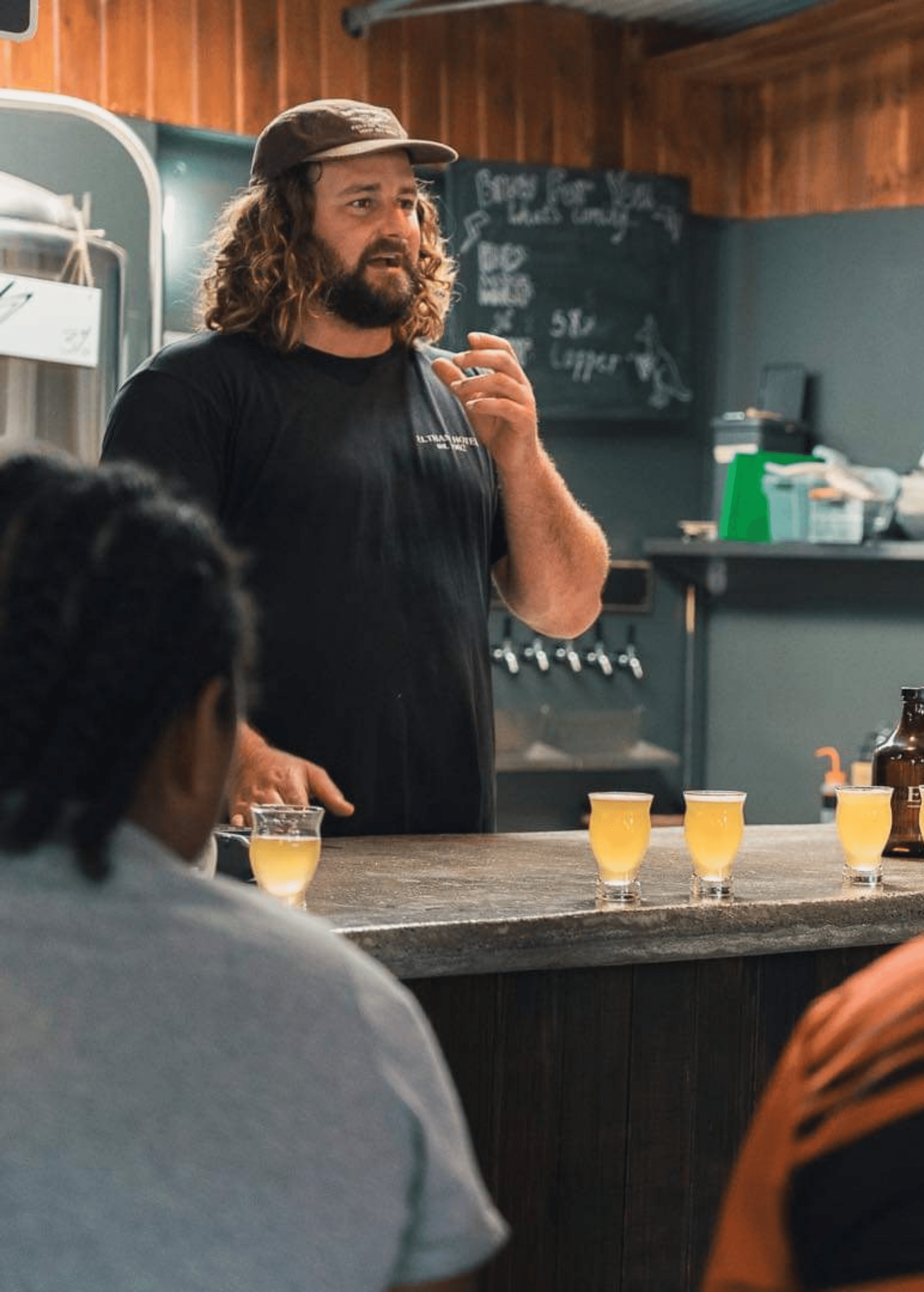 Tasting Paddles Available